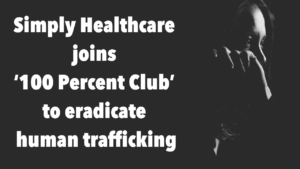 Members of the club commit to training every employee on how to spot and safely report trafficking.
Simply Healthcare Plans is committing to the 100 Percent Club, the company announced on a podcast.
The club recognizes Florida businesses that pledge to train every employee how to spot and report suspected human trafficking safely and effectively.
"Simply has the honor and responsibility of serving some of Florida's most vulnerable populations," Simply Healthcare Plans President Holly Prince said.
"Our commitment to the 100 Percent Club is an important milestone in our ongoing efforts to protect the safety and strengthen the well-being of our members. We will continue to work closely with partners like the Alliance to End Human Trafficking, local nonprofit organizations and law enforcement agencies to support community-based resources, services and programs for those at risk of being trafficked."